Lighting Design for Buckinghamshire family home
This Buckinghamshire family home was purchased for its early 20th century looks but was never going to be large enough for the family nor allow them to have the open plan lifestyle that they wanted. Without moving in they found an architect who designed an oak-framed extension for the back of the house that retained the early 20th century looks from the front, more than doubled the size of the house and gave them a large open plan kitchen, dining hall and sitting room at the back.

Our brief was to create an architectural and decorative lighting plan and lighting specification that tied the new in with the old so that the house felt like one. It was particularly important to our clients to subtly highlight the oak frame and the central double height dining hall which are such an integral part of their home. All architectural and decorative lighting was supplied by us. We ensured that they got full benefit from their lighting control system by designing in flexibility to their lighting scheme.
Elevate Your Home In Three Steps
1. Let's Have a Chat!
Let's have a quick 15 minute chat to see whether we are a good fit for each other
2. We'll Help Bring Your Ideas to Life
From a quick brainstorming session to a full service solution we'll help turn your dreams into reality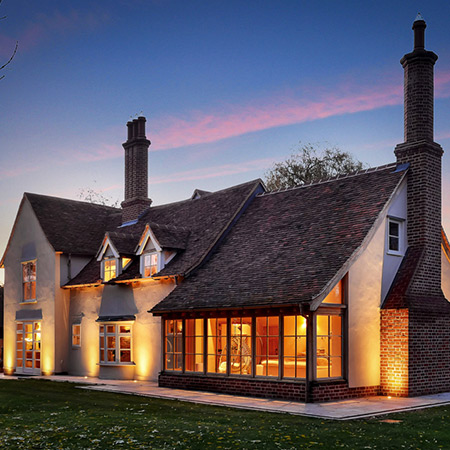 3. Enhance Every Aspect of Your Home
Enjoy quality time with your family and friends with your bespoke lighting highlighting all the amazing features of your home
Why Choose Sam Coles Lighting
Experience
20 Years
Of Lighting Design
Sam Coles has over 20 years experience as a lighting consultant and has multiple qualifications in Interior Design. Sam has spent a number of years offering soft furnishings interior service alongside her lighting consultancy service which has given her a broad breath of experience. From the use of colour through to detailed knowledge of architecture and design.
Sam Coles Lighting has worked on some impressive, high end properties and gardens, creating bespoke designs and unforgettable features both inside and out. You can trust Sam Coles will work hard to understand your brief including detailed discussions around your lighting design ideas and requirements. Don't just take our word for it, checkout some of the great reviews from happy customers by visiting our testimonials page.
At Sam Coles lighting, we go above and beyond for our clients to ensure their dreams are turned into reality. You can rely on Sam to contribute with passion and enthusiasm, sharing her extensive lighting design knowledge to make your project special.