Lighting Design for Aylesbury Vale Family Home
We were particularly delighted to design the lighting for this renovation project as we had been recommended by previous clients who are friends with the owners. We knew it was going to be a very interesting project as it is 16th and 19th century listed buildings, with the old part of the house being traditional cob construction, that were linked together with 21st century materials.

The clients continued to occupy the property during the renovation. The work was in two phases, they lived in one part while other part was converted, then moved across to the other section when the first phase was complete.

Our brief was to light all rooms except the contemporary garden room extension which was handled by the architect. This included the amazing award-winning glass link, the outside of the house, and the hallway with its spectacular award-winning staircase. This renovation won Highly Commended in the Aylesbury Vale District Council Design Awards, 2017. The architects were Ian Slater Architectural Design and project management and construction was provided by Elysium Properties (UK) Ltd.

For both the glass link and the main hall we combined ambient lighting of wall lights with mood lighting created by low level recessed floor washers, uplighting groundlights and groundlights to gently highlight the main staircase at night. Rako wireless lighting controls were installed to minimize disturbance to the historic structure and make creating different atmospheres simple.
Elevate Your Home In Three Steps
1. Let's Have a Chat!
Let's have a quick 15 minute chat to see whether we are a good fit for each other
2. We'll Help Bring Your Ideas to Life
From a quick brainstorming session to a full service solution we'll help turn your dreams into reality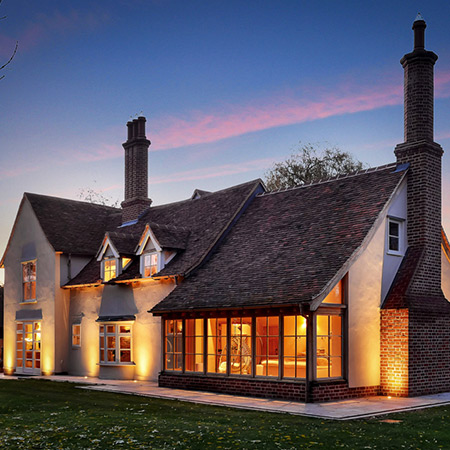 3. Enhance Every Aspect of Your Home
Enjoy quality time with your family and friends with your bespoke lighting highlighting all the amazing features of your home
Why Choose Sam Coles Lighting
Experience
20 Years
Of Lighting Design
Sam Coles has over 20 years experience as a lighting consultant and has multiple qualifications in Interior Design. Sam has spent a number of years offering soft furnishings interior service alongside her lighting consultancy service which has given her a broad breath of experience. From the use of colour through to detailed knowledge of architecture and design.
Sam Coles Lighting has worked on some impressive, high end properties and gardens, creating bespoke designs and unforgettable features both inside and out. You can trust Sam Coles will work hard to understand your brief including detailed discussions around your lighting design ideas and requirements. Don't just take our word for it, checkout some of the great reviews from happy customers by visiting our testimonials page.
At Sam Coles lighting, we go above and beyond for our clients to ensure their dreams are turned into reality. You can rely on Sam to contribute with passion and enthusiasm, sharing her extensive lighting design knowledge to make your project special.